December 20, 2022
IIoT Solutions: How to Improve Resource Planning
ERP systems are embraced by global establishments and small businesses, now for over 30 years.
Then, in the early 90s, these systems, although not immediately, still fulfilled the expectations placed on them – they got rid of paperwork and optimized business operations. Their introduction was a harmonious part of the digital revolution. For now, primary ERP functions are a standard for business management, but they are not enough for companies to unlock new levels of decision-making. According to the TEC report, there are three main weak spots of modern ERP systems – data accuracy, user experience, and analytics. Do you see where we are going with this?

While traditional ERP systems become obsolete, Industrial Internet of Things solutions (IIoT solutions) continue to earn the trust of each business – by removing these three main points we mentioned. Thanks to the sensors and trackers - the system gains precise information on the equipment straight from the field. Granting continuous monitoring of enterprise resources allows smart automation to become possible. IoT data analytics tools aggregate scattered data, compare and compile them to find unexpected patterns that produce new business insights. The accuracy of the data collected permits no reason for doubting the analytics results. It turns out that the integration of ERP and Enterprise IoT solutions unlocks comprehensive business management impossible before. Go further to see how it comes.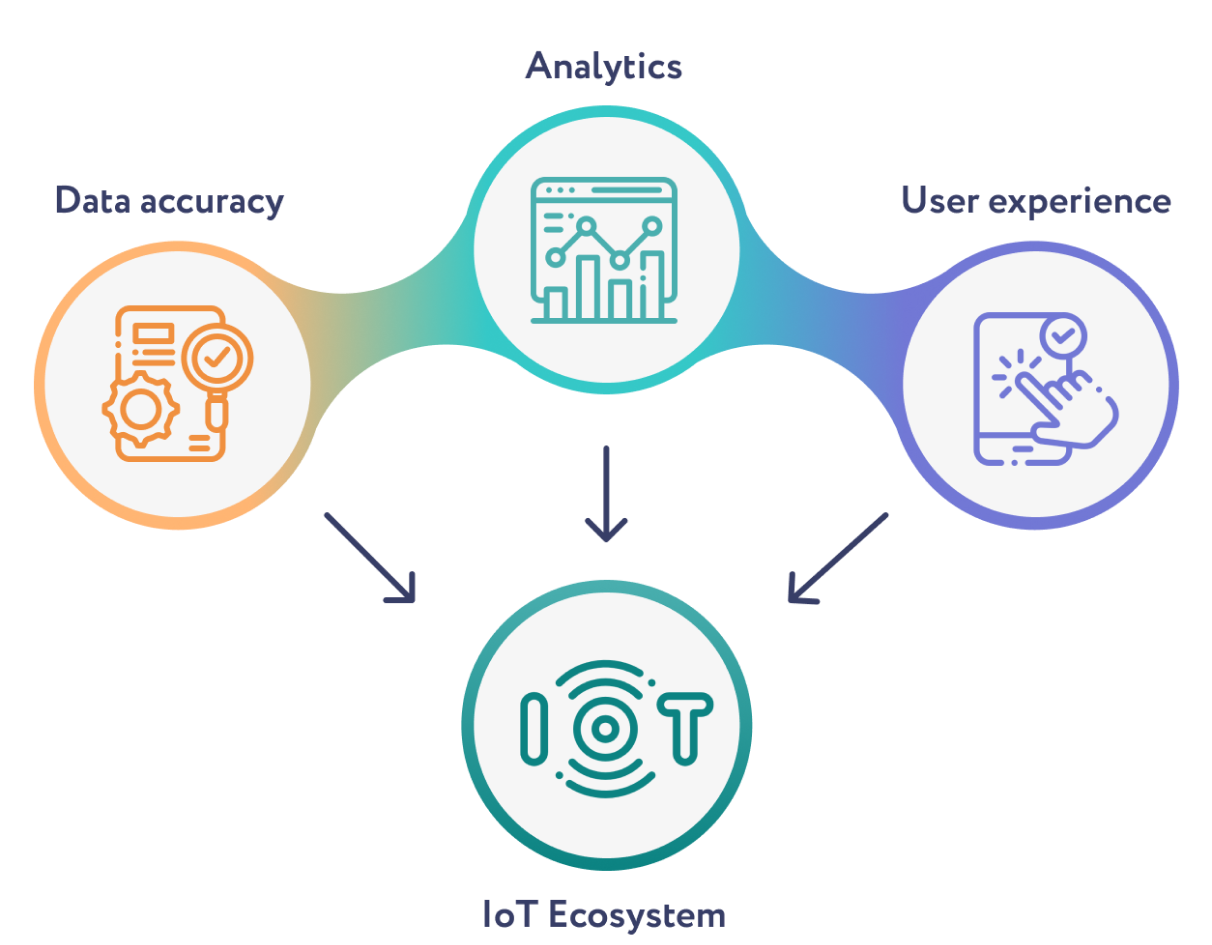 ERP and IIoT Solutions – What Are the Benefits of Such Integration?
Enterprise Resource Planning (ERP) and the Internet of Things (IoT) – are two different systems with two separate software hardware kits required. These systems successfully operate individually, but IoT can also be a "humble servant" of ERP because both technologies have a similar purpose – to help in enterprise control. ERP covers more than IoT, which makes reverse integration impossible. Since the main areas we need to be managed by ERP systems are staff, operations, and finances – our focus will shift to them. In doing so, we will explain how IoT helps businesses optimize and provide rapid planning.

1. IoT helps track the efficiency of the staff through the "Things" they use to operate.
For example, an onboard diagnostics device monitors the status of the vehicle, which indirectly identifies how it is used. Such devices can identify the driving style: excessive acceleration, sharp cornering, hard braking, and how the fuel is consumed. The same goes for equipment in production shops – its status also shows how it's managed. The data from enterprise IoT sensors is more reliable than the visual inspection, which reveals employee behavior. This info helps decide the future of every staff member within the company.
Secondly, IoT-based trackers, smart helmets, and smart vests allow tracking location and health conditions of employees. Having this info at a glance - the company can pick up more suitable working conditions for an employee who suffers from health issues and avoid hazardous cases caused by this.
2. The data from IoT devices helps optimize labor costs through IoT-based production automation.
Not only does this save time and money, but reduces production defects and promotes the best product quality. For instance, you can rely on the operator's vision to execute QA activities only at low conveyor speeds. However, it becomes inefficient when they need to check a detail per second. Implementing an IoT system with machine vision is more reliable. This system will collect the video stream from the conveyor belt, process it, and then approve or reject the product. At a long distance, it shows the most vulnerable production stages. Moreover, the enterprise data you receive from the enterprise IoT analysis will allow you to decide on the character of labor - where to utilize humans, machines, or artificial intelligence.
3. Since the IoT-based systems continuously collect and analyze the data, they can not only define current employees' efficiency but forecast their perspective.
Integration of IoT solutions for enterprises to ERP can be especially useful here. The data provides the current skills of the staff, their motivation, and their efficiency. Which will help you plan employee training and carrier options.
How IIoT Solutions Can Improve Operation Management
The most comprehensive advantage of IIoT solutions is their ability to simplify and optimize operations involved in production processes. Despite the fact the performance varies for every industry, the IoT ecosystem architecture is also customizable to reach the business goals of a particular enterprise. To establish reliable supply, IoT helps manage reserves, monitor warehouses, and provide inventory activities. For instance, by marking boxes in the warehouse with RFID tags, we are always aware of their presence, amount, and location. Meaning, you will be made aware of when you need to re-order supplies - ensuring you never run out, set up required environmental conditions in the warehouse, and mark and monitor dangerous or fragile cargo. If robots manage the warehouse, IoT provides indubitable movement of items to the destination points. Additionally, it is convenient to cooperate with logistic companies where IoT solutions are implemented. It grants you access to precisely monitor the location and conditions of your cargo.
IIoT solutions make predictive maintenance possible both for equipment and vehicle fleets eliminating downtime.
82%
of failures occur randomly and force companies to temporarily cease activities. By connecting the sensors to equipment or vehicles - you can track their status in real time but get signals if something goes wrong. For example, when unusual noises or vibrations appear where they shouldn't be are clear indicators that it's time for maintenance. IoT analytics shows the most vulnerable components and identifies patterns between their status, usage, environmental conditions, and more. Thus, planning maintenance that is managed by traditional ERP becomes not as efficient as predictive maintenance. Which is made possible through IoT solutions for enterprises.
Additionally, monitoring from the "inside" of the equipment is a qualitative change. Considering, not all the damages are visible with the unaided eye. Thus, the enterprise always has workable equipment for continuous production processes.
IoT is also useful after the sale of the products if IoT sensors are installed there. They inform the producer about breakdowns to ensure it's clear which components deteriorate faster and therefore, which ones need improvements. Moreover, this information combined with customer data can be analyzed to find the new patterns on which factors additionally impact the demand. In general, IoT helps adjust pricing and reduce production costs. Through the optimization of manufacturing processes.
One more advantage of EIoT systems is that they help optimize production processes and make production planning more efficient and flexible. Regarding the character of the labor – human or/and machine, quality of raw materials, required equipment, and time spent on each type of activity. By connecting IIoT solutions to ERP, you will never worry that some components might run out. Information about necessary details is sent directly to the supplying module to provide the order of the components in time. The key difference between traditional and smart automation is data-based decision-making. IoT solutions for enterprises can be entrusted with more responsibility. Compared to ordinary automation systems that operate through a strict algorithm.
Need Help?
PSA is happy to provide full-cycle implementation of EIoT solutions according to your business needs
IoT for Financial Management
Data gathered from EIoT systems help form financial reporting and due diligence procedures as a whole. Even at the stage of IoT strategy creation, detailed calculations on perspective savings from IoT ecosystem implementation are being prepared. According to McKinsey, these systems allow us to save up to 40% on equipment maintenance and reduce equipment capital investment by 5%. By integrating enterprise IoT into the ERP system sensor data reaches the ERP financial module, allowing it to recalculate the cost of the product, production, labor, and other. It becomes clear which production stages are the most costly for the company and where it can save.
Such information is a valuable resource both for executive management and investors. The IoT-based data help improve the following areas:
Asset management
Financial control
Risk management
Although management decisions rest with you, IoT-based systems are the source of custom data valuable precisely for your enterprise. By having it, you can increase KPIs through accurate predictions instead of hypotheses or data from other players on the market. Reports generated by IoT analytics tools are usually in the convenient form of diagrams or charts. They can be attached to any financial report to provide a comprehensive view of how IoT innovations influenced the enterprise and where are the rooms for improvement. Generally, you get all the enterprise information in full view.

Remember, Why You Started Developing IIoT Solutions

Today, the understanding that digital transformation improves businesses seems to be generally accepted. It often happens when companies implement cutting-edge ERP or IIoT solutions randomly, they consider themselves to be digitally "transformed", which is not right. The digital transformation concept includes all digital technologies and implies the transformation of business processes, which is impossible without a comprehensive digital strategy capable of enhancing business from all sides. When we introduce new technologies without having a clear strategy, we change the tools, but not the principles. Thus, always remember why you have started, so as not to belong to the 5% who failed the ERP implementation, or to the 18% who didn't cope with EIoT implementation.
Over the last 30 years, PSA, being a software and hardware development company, guides our clients to reach their business goals through technological tools. At the dawn of IoT, we researched this "terra incognita" to offer our customers the most profitable opportunities and shared the happiness from the first insights they received from IoT analytics. Now we can say with certainty that the Internet of Things is one of the most powerful tools for the enterprise to optimize their processes. Do you want to implement them successfully? Contact us to get expert IoT assistants that help you get the most out of your business.

Let's Connect
Learn more about how we engage and what our specialists can do for you