November 21, 2022
Automotive IoT Solutions for Сommercial Vehicles
In 2021, the global Automotive IoT market was valued at
USD 115 Billion
, and is projected to grow at a GAGR of about 90%!
This impressive growth reveals some tendencies to what a vehicle becomes for humankind. First, end-users who are getting used to having their cars always know the optimal route and are ready to offer their favorite podcasts to listen to. The second is commercial transportation that uses vehicle data to make money. Accordingly, the Automotive IoT solutions market is abundant with various technical bells and whistles, from 300-meter range lidars to heads-up display units which are actively advertised. Such solutions are really impressive, but best-in-class does not mean it is the best option for your business. For instance, you can equip the vehicle with extremely high-resolution computer vision cameras to identify obstacles on the route, but why do you need them if the well-trained neural network can perform the same much cheaper?

For commercial transportation to earn, it is essential to pick up a custom combination of Enterprise IoT solutions suitable for the particular business model, vehicle fleet, and environmental conditions. It is possible only when a business sees the whole picture of what it can get through IoT solutions and how the IoT ecosystem will work. In this article, PSA reveals how to build up this picture for your business and optimize commercial transportation through automotive IoT solutions.
How Advanced Can Modern Vehicles Be Thanks for Automotive IoT Solutions?

The IoT-equipped car is between non-automated and fully automated, or smart car. The more developed the IoT network in the vehicle is, the more detailed picture it can expose that allows a vehicle to take more decisions by itself. Smart cars are the most advanced vehicles in automotive absorbing the latest technologies to provide an exceptional level of safety. Among commercial transportation, they can be used, for instance, for last-mile delivery.
The following components are most common in IoT vehicles: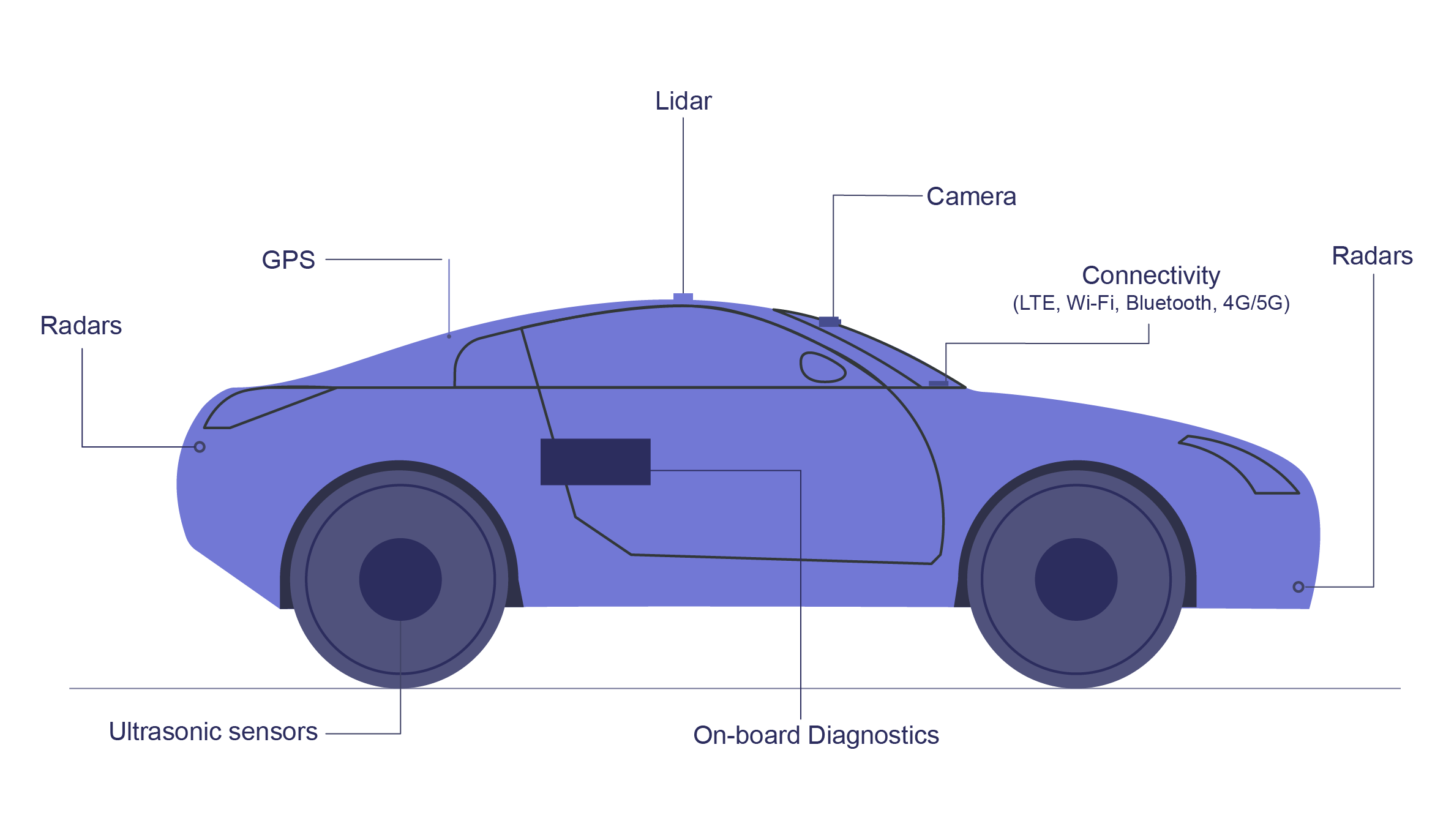 These components help the driver and operator evaluate the traffic situations in detail. Surely, not all automotive IoT projects require implementation of all these components – some of these tools are complementary to each other, and some – are interchangeable. For instance, there is no need for lidar only to avoid obstacles on the track and car crashes when implementing distance sensors at every side of the vehicle. Yes, automotive IoT solutions are amazingly powerful tools, because they help "car intelligence" to make decisions, but their major business value is their ability to gather and analyze a large amount of data to find faults and room for improvement.

How To Overcome Driving Issues Through Automotive IoT solutions

To have the business processes optimized, you should adopt automotive IoT solutions in strict accordance with your business needs. IoT ecosystems with vehicles involved can solve the main industry-specific issues to avoid financial losses, increase safety on the road, and find new business opportunities. See how it works in particular cases.

Extreme driving

When the new vehicle components are worn out too soon, you can only guess, either the manufacturer is not reliable, or the driving style is too harsh. To monitor the latter, the automotive IoT industry offers to identify harsh acceleration, braking and cornering immediately through IoT devices with a gyroscope and accelerometer installed. It is the most common way to detect dangerous driving but inventive IoT architects can, for instance, build the diagnostic device only with an accelerometer to reduce production costs.
Dangerous zones and obstacles

Since commercial drivers commonly need to spend 12+ hours in a row driving, their reaction can naturally slows down after so long. To prevent the driver from hitting obstacles, ADAS (Advanced Driver-Assistance System) with the installed camera is ready to "observe" the route and signal about obstructions in advance. By being connected to the Internet, the system gets messages about dangers on the route that might appear and turn on increased monitoring mode. To realize this, vehicles are usually equipped with computer vision that utilizes neural networks to analyze traffic situations. Also, you can utilize distance sensors to identify the distance to obstructions more precisely.
Downtime and sudden expenditures

Any transportation company has a fleet maintenance schedule, but it doesn't prevent breakdowns in half of the cases. When enabling responsive sensors to track vehicle components in real time however, they "notice" signs of coming mechanical failure long before it happens. The sensor measures abnormal vibrations in a driveshaft? The operator gets a notification that this component needs additional care – to be fixed or replaced. Predictive maintenance possibilities are almost limitless since any vehicle detail can be equipped with a sensor, usually, noise, vibration, or temperature sensors. If you use similar vehicle models in the fleet, the system can analyze and identify their weak places on the example of 3-5 vehicles. The received reports provide an understanding of how it's better to equip all vehicles with automotive IoT solutions.
Automotive IoT Solutions in difficult-to-reach areas

Since monitoring has to be performed continuously, vehicles have to be available in tunnels, gorges, and other "dead zones". Luckily, it's no issue since the IoT ecosystem can be designed specifically for it's usage environment. A company can be equipped with a suitable connectivity standard. For instance, LTE has a wide network coverage that provides all-time availability. Among the latest LTE technologies, you can find those with very low power consumption. Likely, the system can require a spare connectivity solution and reliable backup procedure to restart the system fast and without errors.

Delays along the way

Since commercial vehicles are aimed on transport passengers or cargo, time is one of the crucial factors of successful delivery. Through GPS connectivity and online maps, IoT vehicles can build optimal routes to avoid traffic jams or accidents. By knowing the travel history, the system can build the most suitable routes for a particular driver in specific weather conditions. By having lidar, the car can detect accidents in front much earlier than the driver can. By analyzing incoming data in real-time, the system also can immediately rebuild the route – before the vehicle gets stuck in a traffic jam.
Need help?
PSA is pleased to provide full-cycle implementation of Automotive IoT solutions according to your business needs

How Do Automotive IoT Solutions Form the Whole Picture of a Transportation Process?

Okay, we can trace how the driving style influences maintenance costs, but the real potential of the IoT ecosystem for automotive reveals its value in advanced analytics. Thus, the creaking engine mount is just a link in a chain that is fully determined. The whole picture can be gained through analytical reports and complemented with visualization that helps monitor the situation in real-time and make highly accurate predictions. See how it operates below.
Historical Data for Advanced Analytics

Since all the vehicle and driving data comes to the server, it can be compared, combined, and analyzed there to find new patterns. The main goals of such analysis usually are to optimize route planning, vehicle fleet, and to increase the safety of the trip.
By advanced IoT analysis, the fleet operator can observe approximately the following chain:

All these components are interdependent, which allows us to build up a whole picture if a critical issue happens. For instance, the system recorded that the driver braking hard on a road that seemed to be empty. They risked cutting the brakes. What happens? The camera recorded the moose run, while GPS recorded its location which allowed a computer to identify that migration season has started. The travel time on this route sector significantly increases. The system processes all these data and offers the other route for this season. The operator gets the report and can approve the route changes by pressing one button. Thus, the more systems are synced to the vehicle, the more accurate predictions and suggestions the system can create.
Advanced IoT analytics can also answer more business questions: What details do you order for the vehicle? How do you optimize route planning? When to save on labor costs? A detailed IoT implementation strategy helps identify priority directions of business improvement.

Real-time IoT analytics

The Internet of things also provides continuous monitoring of all the components, drivers, traffic situations, etc. In real-time through Internet access, the system can:
Rebuild the route based on the actual traffic situation

Advise the driver on optimal speeds according to actual vehicle status and fuel consumption

Plan maintenance according to the actual status

Suggest optimal vehicles for particular routes

Warn about upcoming issues on the road

Detect improper fuel usage

Manage car-sharing functionality
How about visualization? Roadmap and vehicle models with augmented reality are effective visual tools to detecting issues. Imagine the model of the vehicle where all the monitored components are colored from green to red for you to see their status in real time. Did the wheel become "red" suddenly? Click on it to see its history to find the reason.

Also, the real-time monitoring system is synchronized with the cloud storying full vehicle data that allows predicting failures in real time. The truck drove into the pit again at high speeds though the car's suspension has already been in the "yellow zone"? "Be careful!" – the driver will get this notification. "Inspection for the suspension" – this automatically generated task will be sent to the technical team as soon as the vehicle drives back to the yard.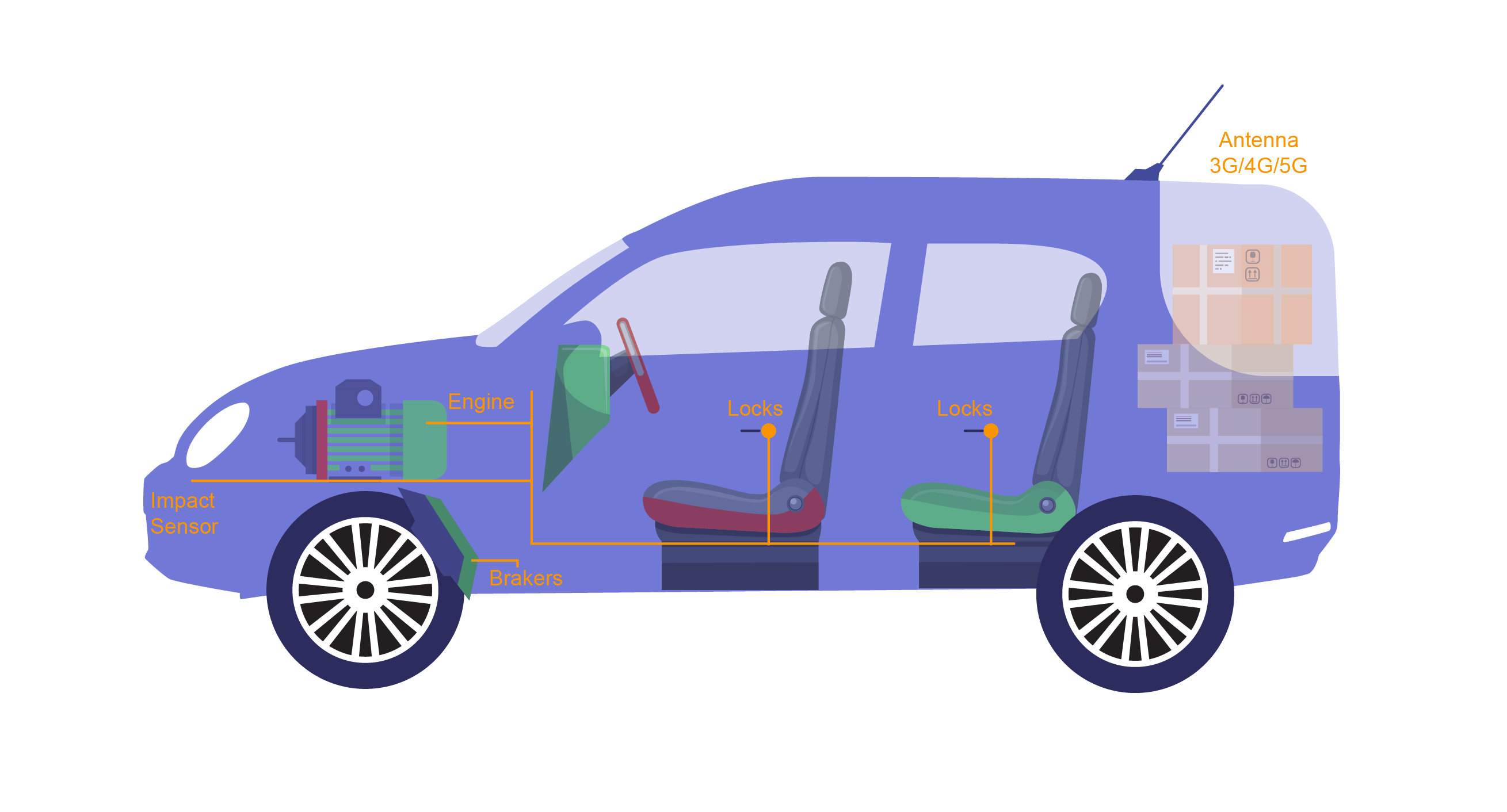 Example of a visual vehicle map
Conclusions

When developing automotive IoT solutions, the following factors have to be considered:

The most essential features for IoT vehicles are predictive maintenance, harsh driving detection, accident prevention, and advanced tracking capabilities.

If you are going to equip a vehicle fleet with automotive IoT solutions, you need to know that there are no universal solutions: you'd better choose the appropriate technical combination for your business need.

IoT Solutions for Automotive help observe the whole picture of the business processes. For these processes to work in a maximally performative way, the company has to have a detailed IoT implementation strategy.

When choosing IoT devices for a vehicle fleet, consider their variability of installation, high connectivity and sensitivity, and compatibility with other devices.

At PSA, we meticulously study every opportunity in automotive IoT projects to find the most suitable technical solutions for every case, business, environment, and so on. Contact us to get a custom map for deploying your IoT ecosystem on the vehicle fleet, or to develop custom IoT solutions for automotive.

Let's Connect
Learn more about how we engage and what our specialists can do for you