May 29, 2019
Mobile Solutions in Radiation Dosimetry
We value partnerships and collaboration and strongly believe that this approach leads to our customers' profit and high levels of satisfaction.

When X-rays were discovered in 1895 by a German physicist Wilhelm Roentgen, no one knew that radiation would find use in a wide range of industries. Today, it is used to varying degrees in medicine, security, transportation, agriculture, oil and gas, and other areas. The application of radiation for industrial purposes will keep on growing in coming years: in medicine, for example, the demand for radiopharmaceuticals for diagnosis is increasing at over 10% annually.

Radiation is a matter of serious concern in terms of nuclear safety and health effects, particularly considering the high number of radiological accidents. In that regard, demands for accurate and reliable radiation detection devices are on the rise. Nowadays a variety of radiation detection, monitoring, and safety devices are available and they can be broadly divided into 5 main categories:

Environmental radiation monitors

Surface contamination monitors

Personal dose monitors

Radioactive material monitors

Area process monitors

The level of technological advancement and operational capacity of such devices has developed over the years, which is especially true for personal dose monitors or electronic personal dosimeters. In the light of the recent trend towards the development of smaller, portable and relatively low-cost radiation detectors, manufacturers began to actively use mobile solutions in dosimetry. The number of radiation detector apps commercially available for both Apple and Android devices is growing each day. They can work either as independent applications, or synchronized with a personal radiation monitoring device.

One of such mobile applications, which PSA developed for a leading global manufacturer of radiation detection equipment, was designed to display the data received from a personal handheld dosimeter via Bluetooth 4.0 (BLE).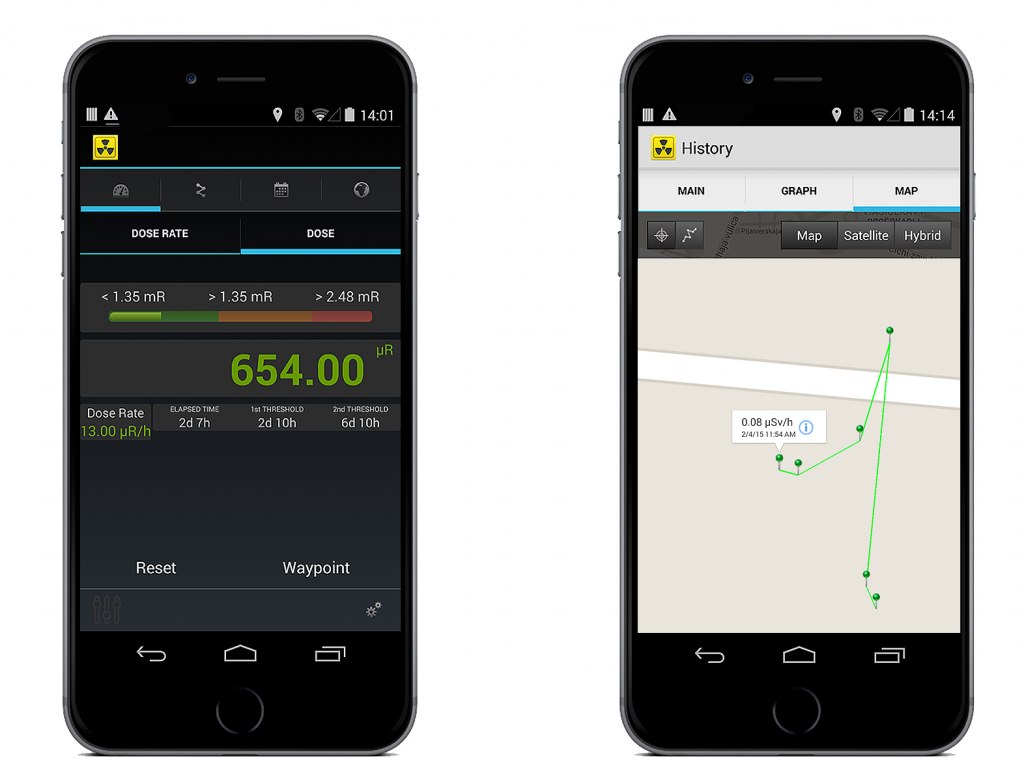 The application allows monitoring the level of radiation and accumulated dose, and saving the data and route map of the device movements within preset periods of time with possibility to send the data to a remote server. In case the current radiation level exceeds a pre-defined threshold, the application initiates a sound alert. The track mode allows recording tracks marked with Dose Equivalent Rate (DER) and Dose Equivalent (DE) values using the ability of GPS positioning of the user's mobile device and displays it on the map.

Display of measurements results in various units (Sv, R)

History of measurements with automatic grouping and convenient displayContinuous integration can be carried out on one server and stable versions are released for other environments. Continuous integration can be carried

Downloading event data stored in the instrument memory to the database

Flexible custom settings (thresholds, radiation units, data sorting, filtration)

Display of geo-linked measurement results of other users

Measurement results sharing via Twitter, Facebook

Sources:

1. http://www.world-nuclear.org/information-library/non-power-nuclear-applications/radioisotopes-research/radioisotopes-in-medicine.aspx
Let's Connect
Learn more about how we engage and what our specialists can do for you