September 12, 2022
IoT Consulting Services: How Beneficial Can They Be for an Enterprise?
To capitalize on IoT solutions, you should see the whole picture of how businesses interact with IoT technologies.

Why do you think some industries got a boost early on at the beginning of the IoT revolution? They had this picture. For instance, advanced manufacturers were highly automated overall while every operational stage is strictly regulated. It was logical to move further to implement enhanced measuring and send data flows to advanced analytics. Since then, many businesses were destined to fail at their IoT integration program due to blind copying of successful cases. That's why quality IoT consulting services have become so appealing to businesses in recent years: a holistic strategy considering custom goals and business context provides more than 90% of IoT implementation success.

Why Do I Need IoT Consulting Services?

Today, we see an ever-growing number of Enterprise IoT solutions that seem to be designed for particular business goals, but your business is more distinctive than any off-the-shelf tool can provide by default. To gain the most benefit from an IoT ecosystem and avoid "reinventing the wheel" in the process, it's helpful to work with IoT consultants. Essentially, IoT consulting services aim to form an understanding of how to meet business goals through IoT ecosystem development. The ultimate product company delivers on IoT consulting activities, is the IoT implementation strategy leader, and the roadmap that reveals and justifies each step on the way to the IoT enterprise. This model is based on three core components: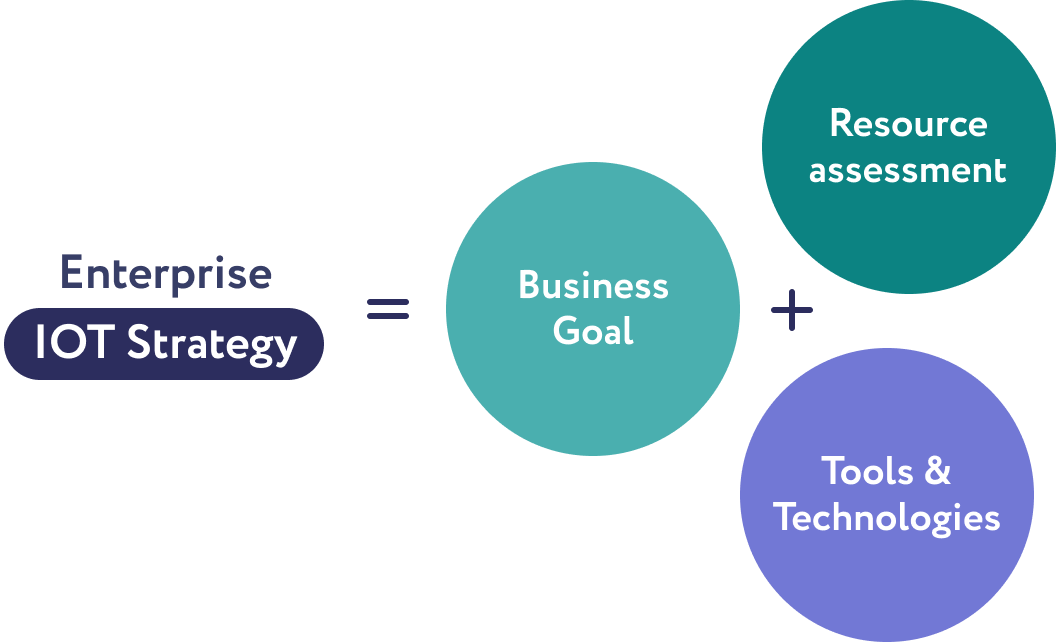 First, the IoT company can strictly follow the goals identified by a client. In that case, all consulting forces are focused on estimating existing resources: staff, equipment and vehicle park, digital potential, and industry context; as well as searching and offering technological, connectivity, and architecture solutions. The second option implies participation of the IoT consultants in "scanning" the business and identifying inconsistencies that can be troubleshot through Enterprise IoT solutions integration. This prevents situations where you discover, once you've already wasted significant resources on creating HMI's and training personnel to operate updated equipment. The more beneficial approach is to fully automate your production processes from the beginning, which you'll find will uncover many insights that were not expected.

What Concerns Can I Address with the Right IoT Consultants?
Enterprise IoT as a concept has unlocked big data potential to serve business and corporate needs. Therefore, any business process where you can gather data can be improved through Enterprise IoT solutions. The typical models that are offered within IoT implementation are:

Optimized Business Models

Increased production performance

Improved QA processes

Smart automation

Smart security

The one IoT tool can solve several tasks simultaneously, even if it was originally planned to solve one. Imagine how data such as temperature, current, and vibration collected from the equipment can show where power consumption is too high, and likewise when equipment might fail. Without additional costs, we can save on power and avoid downtime.
How Accurately Can IoT Ecosystem Behavior be predicted via IoT Consulting Services?
When implementing an IoT ecosystem, there is no place for a strategy like: let's integrate it first and see how it goes. To change something when the system has already been deployed may be too late, or rather, too expensive. We have to clearly understand how the system operates to track business progress, and make predictions.
Structurally speaking, the right IoT consulting services help companies learn how to:

Collect the data. By studying the enterprise potential, good IoT consultants identify which data is valuable for improving business processes. Environmental conditions, equipment status, length, inclination, object presence, or human health can be tracked. Then determined measuring devices, such as sensors, wearables, or existing enterprise equipment to gather the data. This helps avoid unnecessary data silos.

Automate the enterprise. By studying the business context, you can be advised on the optimal way of automation, namely, fully or partially. It enables the automation of business and manufacturing processes in a seamless way to avoid staff issues. From a technical point, IoT consultants should pick up the most suitable edge computing solutions and design the corresponding architecture.

Analyze the data. Cloud offers incredible opportunities for deep analysis of a large volume of unstructured data, but if a company prefers to have on-prem services, the correspondent infrastructure can also be built. The analytical tools are chosen based on data and service types, as well as the goal that the company has established.

Use data to Improve the business. This is what the IoT ecosystem has been created for. The structured reports contain all the required enterprise data to bridge the gaps that hamper business growth. However, there is still room for unlocking custom insights by comparing various types of data that seem to have no interdependencies from the first view. Such reports allow us to consistently track the progress and identify new opportunities to grow.

Thus, the right IoT consulting can help understand what exactly should be "gained" from the business processes and "connected" to digital, as well as how should it be performed.

What Technical Solutions Can Be Promoted at the IoT Consulting Stage?

The nice benefit that allows Enterprise IoT to be implemented almost everywhere, is the unlimited choice of technologies it offers. Any cutting-edge solution such as Machine Vision, AI, or VR tools, as well as advanced neural networks, can be integrated within the IoT ecosystem. Can we speak about it deeply at the consulting stage? We must do it because the value of IoT consulting services is measured by their ability to combine technologies in the most performative way for the particular business. Therefore, it's advisable to end IoT consulting in a PoC.
IoT consulting should form the picture of the understanding of the following technological solutions:

Embedded devices

Edge Intelligence

Network Management

Cloud Intelligence

Connectivity
Due to the custom-oriented nature of high-quality IoT consulting services, it presents the best option in many cases. For instance, you should not be forced to provide the internet connection around the whole enterprise, if other protocols can provide more reliable communications with some equipment. The same goes for troubleshooting: you don't need to install costly cameras to estimate product quality visually if you can utilize neural network potential instead.
Additionally, with having a comprehensive view of technologies for your IoT ecosystem, you'll always have a plan to fix any issues in advance.

Who Can Provide IoT Consulting Services?

Due to IoT market saturation, IoT consulting services tend to become segmentized. Thus, you can find both companies that provide only marketing research and IoT-based business strategies, and firms with vast practical experience in IoT ecosystem implementation. Both types of providers can introduce you to the IIoT world, but IoT consulting is not only and not so many theoretical calculations, but practical research of your business context. Thus, we recommend contacting IoT ecosystems developers directly for the following reasons:
Detailed comprehension. Great Industrial IoT developers can build the IoT ecosystem architecture in more delta and make correspondent calculations using their unique expertise. The perspective IoT ecosystem is expected to be more custom which means more adapted to business needs. Also, they have the correspondent experience to investigate existing equipment onsite.

Innovation-Adapted. The IoT market is continually filling up with new solutions. IoT developers can understand more clearly how a new application, processor module, or neural network can behave in a client's environment by studying its technical parameters.

Seamless development. Usually, full-cycle developers have the whole business flow for IoT ecosystem implementation: from consulting through prototyping, designing, and deploying. This allows moving from one stage to the next seamlessly without wasting time studying the concept.
When choosing to consult with a development company, you can count on an extensive, in-depth study of the business problem and the delivery of a solution in strict accordance.

What Advantage Can Your Company Take from PSA's IOT Consulting Services?

Figuratively connecting sensors to dollars, we offer companies a comprehensive view of their business at the moment, and a perspective view of how it can be after Enterprise IoT solutions implementation. With in-house teams of developers covering the full cycle, we are ready to assist in your EIoT journey from the very beginning and also support your IoT ecosystem after deployment. We offer:

Market assessment

Proof of concept

Technical IoT Consulting

Ecosystem design
Security review

Enterprise integration

Need help?
PSA is happy to provide you Enterprise IoT implementation strategy with strict accordance to your business needs
Since the term IoT was coined more than ten years ago, PSA has helped both start-ups and well-established businesses harness IoT technologies. Thus, we come to every task regardless of its complexity. Contact us to get a realistic look at how beneficial IoT can be in your enterprise.
Let's Connect
Learn more about how we engage and what our specialists can do for you