January 3, 2021
PSA Achieves ISO 9001:2015 Certification
Certification for QMS standards passed.
What is ISO 9001:2015?

ISO 9001:2015 is an international standard for Quality Management Systems (QMS). The main idea of the certification is to build and successfully maintain the QMS to satisfy customer expectations. This provides a guarantee to our current and potential customers that PSA has a strong and well-organized management team comprised of qualified professionals.

The entire four month certification process consisted of a standard procedure that included three stages

The initial step of certification was simple to complete since PSA already had multiple documents and the majority of the standard requirements were currently in practice. An internal audit was carried out on the basis of the company by the employees themselves. The external one was held by a Canadian auditing company.
We are proud to announce that the full process was completed and we officially received our certificate on the last working day for 2020, on December 30, right before the New Year. This was a good holiday gift for all of us.
We all understand that receiving the certificate is only the first step in a long journey. It shows that we know how to make our customers satisfied by delivering the best products and services on time and within budget! Our next steps are to confirm it during our day-to-day activities. As a reminder to our specialists, the certification is renewed annually which will require continual improvements. We can proudly say that almost no additional processes were introduced as the employees at PSA already built the QMS in our hearts!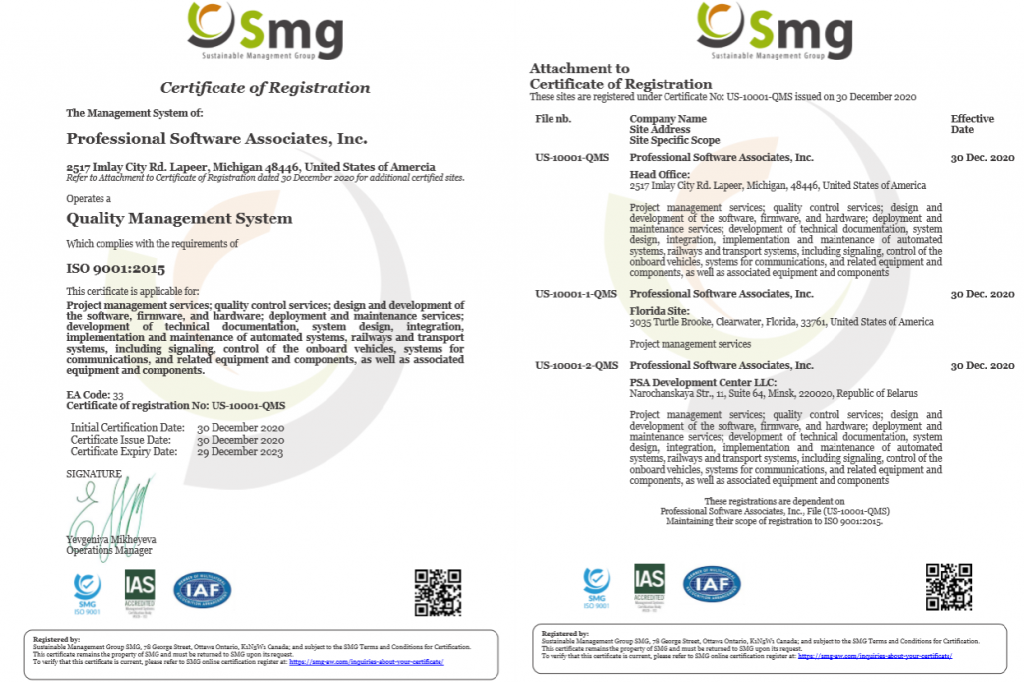 Let's Connect
Learn more about how we engage and what our specialists can do for you