Quality Control Process Application
Highlights
In 2009, PSA was contracted to deliver a quality control process monitor application for Perdue Farms, a major American food and agricultural company. This application was intended to collect data on the production line at chicken processing plants and display tracking results for poultry deboning and portioning processes.
Challenge
The Business Improvement Process(BIP) application was designed to collect and store data on business processes, perform data trending, and display results in the form of various reports for plant production and quality control engineers. Vital data such as people, products and profitability by department was collected in order to improve the organization of business processes and planning.
The BIP application was intended for employee use, granting each authorized user access to the application and all of its features. The application allowed productivity monitoring and efficiency indexes for business processes, such as staff turnover, safety incidents, yield, and faulty production, both on a daily and weekly basis.
Solution
After requirements collection and technical discovery, our development team designed the desktop application with a customized UI design specifically adopted to support touch screen operation. The user-assigned access to the app was secured with a login/password and access level mechanism. The application collected the data from data files and SQL databases, processed it and provided the ability to add, delete, edit and search data entries as well as the printable reporting feature (in the form of charts).
Development Included
Requirements definition.
System architecture and design.
Application development.
Functional testing.
User guide creation.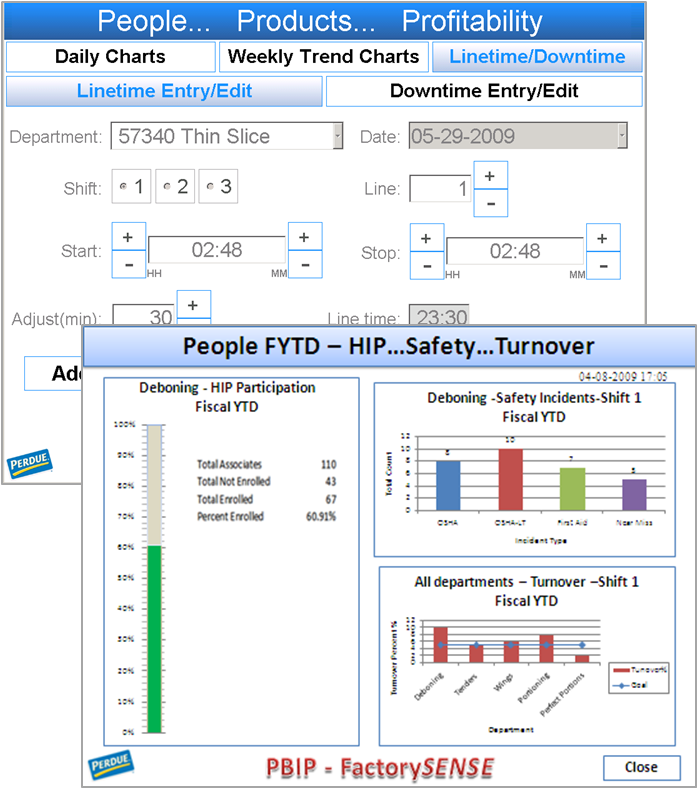 Let's Connect
Learn more about how we engage and what our specialists can do for you