PTC Wayside Systems Management
Highlights
The implementation of a PTC system on Class 1 freight rail lines in the US required our regular client, a global railway player, to ensure simple and secure management of interlockings. They applied for our railway development services to organize it remotely and ensure it met the requirements of the North American Positive Train Control (PTC) market.
Challenge
Client Challenge
Ensure full-fledged PTC functionality for interlockings on Class I rail.
Project Objective

Provide secure remote management for wayside PTC units to simplify their configuration and maintenance, and reduce service costs.
Solution
PSA has developed a system that allows for remote management of various widely distributed MicroLok II-based wayside devices, in compliance with PTC safety requirements. The solution enables assigned operators to monitor the conditions of the WIUs (Wayside Interface Units) via the Internet, as well as adapt them to the changes found at rail locations.
Our PTC Wayside Systems Management solution promotes the following functionality:
Modification of configurable items

Receiving system alarms

Viewing of system messages, alerts, and errors
This solution also allows for targeted maintenance of WIUs when it is necessary, unlike scheduled maintenance under a standard and redundant set of procedures.
During the development process our team implemented:
User Interface within a browser to manage remote hardware

Communications for remote Wayside Units

Secure connection via secure shell and TCP/IP
As a result, Wayside Interface Units can be remotely managed from the back office in a secure manner, while any communication disruptions cannot affect the interlocking system stability.
Development Included
Functional Requirements Review
Architecture Design
Software Development
Firmware Updates
Unit Testing
Functional Testing
Results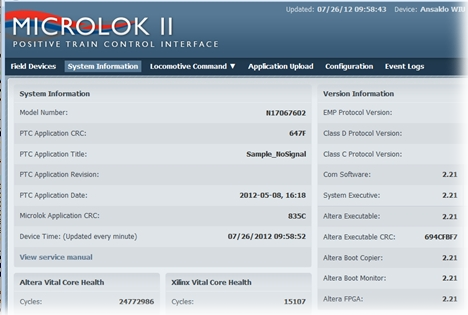 100% compliance with PTC requirements

WIU maintenance cost has been reduced by 35%
Let's Connect
Learn more about how we engage and what our specialists can do for you